Productusage

•Users will inspect new incoming Stencil materials
Users will inspect new incoming Stencil materials so as to check whether there are missing holes, multi-holes, hole size, positional deviation, etc.;It can greatly reduce users working strength and checking time, and can visually report bad data to the Stencil supplier.
•Outgoing quality control of Stencil supplier
It can ensure that all products delivered to customers are qualified products.
•Inspection of the effect of stencil after cleaned
Used squeegee after cleaned inspection the cleaned effect by stencil machine.
•Tracing the life-span of the stencil
After repeat used the stencil and fine-pin IC、BGA has the hole deformation and wearing which caused the bad of solder paste area expanded,icicles and other NG.
•Matching the stencil opening and PCB board
Customer will supply the Gerber file to supplier to make the new stencil and the PCB
soldering pad usually is not correspondence with stencil opening.
•One-time inspection of the same product between multi- stencil
The comparison test between the new stencil with used one.
•Tracking the printing technology
The degree of the printer stencil block will decide how many times printing the stencil need to clean. Does the machine stencil still has residual blocked hole and solder paste after automatic cleaned by the machine.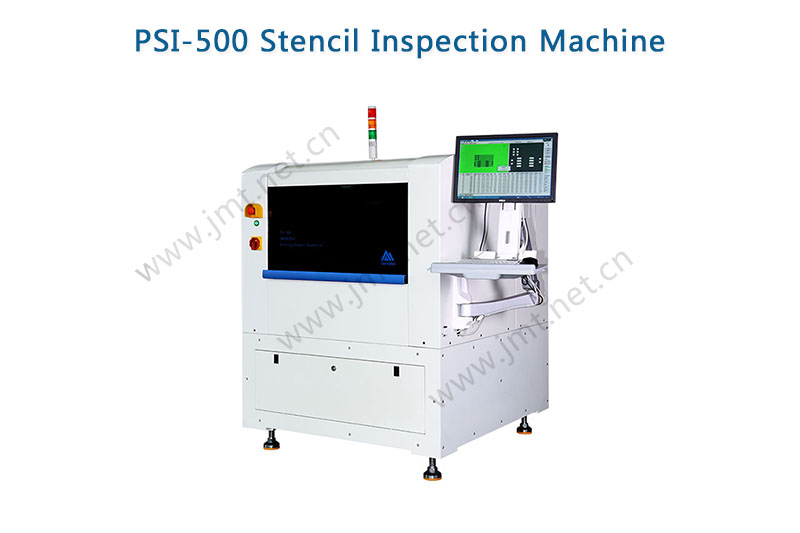 Product feature
Automatic detection of areas,locations,foreign matters,holes and tensile opening location, the accuracy of measurement can be 5µm. The speed is 6 min.(300*250mm board)
The GAGE R&R of repeatability and reproducibility<5%
High precision servo motor,grating ruler(X.Y axle servo motor+grating ruler/repeatability±5 µm,DPI 1µm/pulse)
Automatic alignment of the GERBER and stencil, no need repeat teaching. Gerber file(RS-274X) detected automatically and also with the data comparison function between the new stencil and used one.
The result of the inspection will be generated automatically which can be traced,saved the test data and NG image.(FOV 10*19; Min.testing component reach 01005(inch)
Product Parameter
Operating system: WIN7 64Bit; Chinese/English version
Detection range: Maximum detection range: 500X500mm Wide universality of the Stencil:
Stencil dimension: 400-736mm Detection mode: Off-line fully-automatic detection tension detection: 0~60N/CM <5%German camera and camera lens 2448*2050 500W CCD resolution 4.4μm /pixel Japanese LENS
Voltage/Power: Single-phase AC220V 50/60HZ 1000W
Dimension/weight: L1100*W1200*H1400mm/1200KG
Environment: 10℃~30℃/60±20%RH