Introduction
In the modern visual management and tracing of manufacturing procedures, the management and control of product defects play a vital role. The negligence of any detail may bring about fatal damages. Similarly, in the SMT manufacturing procedures, how to judge the quality and service life of squeegee has been included in the scope of quality control by more and more enterprises.

Status of the Industry
1. Currently, most squeegee inspection instruments are of semi-auto model in this industry, and no inspection standard is available now.
2. The manual judgment of squeegee quality is inaccurate, thus leading to quality problems.
3. It is hard to find the causes in case of unusual printing quality.

As an excellent squeegee supplier, Jayong is quite experienced, and customized manual squeegee inspection instruments for numerous enterprises. ST2 is such an instrument developed to solve the above problems.

ST2 squeegee inspection instrument is used to check the quality of squeegee. It is able to check squeegees in an all-round way, such as the shape, pressure, angle and so on, and to record the data and result of the inspection. ST2 is truly quite helpful in the control of squeegee quality.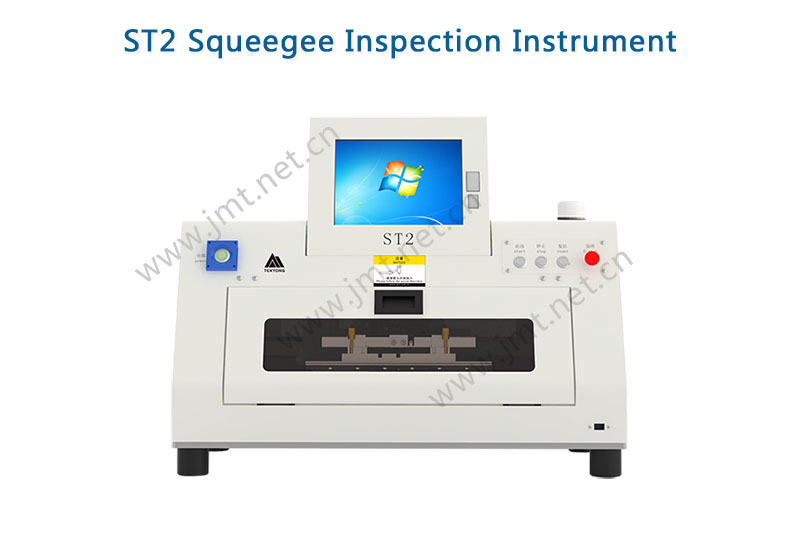 Advantages of Product:
A. Automatic Operation
It operates completely automatically, and requires no manual intervention.
B. Visual Inspection
The advanced visual inspection technology is used to simulate the squeegee pressure of on-site manufacturing, so as to check the squeegee in many ways such as squeegee edge shape, squeegee edge defect, blade angle and so on.
C. Intelligent Chart
It records the squeegee inspection data and result in detail, and generates corresponding report files. According to the information obtained in the angle checking, the data tracking of squeegee can be realized, and expressed in the form of tendency chart.
D. Easy Erection
Desk-top equipment, easy to install; not requiring debugging, easy to use.
E. Free Extension
It can establish free extension with the peripheral devices such as scanner gun, ASM-600 squeegee cleaner, SMS100 squeegee management system and so on, and can communicate with them online.
Introduction of Software:
It offers concise interface and simple inspection standard, and achieves one-touch operation. The intelligent report can be generate automatically. It makes things so easy.
Specification Parameters:
Model: ST2
Operation System: WIN7
Detection mode: Off-line automatic detection
Items of inspection: Shape and defect of squeegee edge, service life of blade, and angle of squeegee
Data Input: One,Two-dimensional Code Scanning
Vision: One 6-megapixel industrial cameras
Detection Speed: About 80 seconds per squeegee
Check Accuracy: ±0.01mm
Angle Accuracy: ±0.1℃
Squeegee dimension: Min L=250mm, Max L=400mm
Applicable brands: Common printing press brands such as DEK, MPM, GKG and so on.
Environment: 10℃~30℃/60±20%RH
Weight: 60Kg
Power: 220V 50/60HZ
Air pressure: 0.5~0.8MPa